In praise of small things
Whether you live in in an apartment or a chateau, small decorative antiques can have a big impact if chosen carefully and artfully displayed. And all the more so since maximalist decor has made a comeback.
But why were these cherished miniatures made in the first place?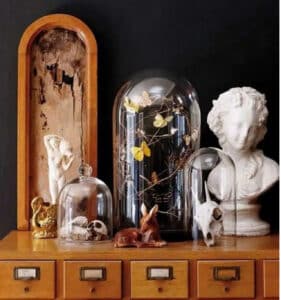 Fit for a lady's purse
This unusual scent bottle was made small enough to slip into a 19th century lady's handbag, along with other feminine essentials – a dance card, perhaps, a fan or an alms purse…
The hand woven wicker is pretty and practical – and the skill that went into making it is astonishing!
Doll's delight
This teeny tiny tray of stoneware mugs is a miniature perfection, right down to the flammé glaze. The maker, Denbac, lavished as much care on it as it did on its full sized sets.
With mugs smaller than a thimble, this set was probably made as a doll's set – and destined for very lucky children!
Sales argument in a nutshell
These Limoges porcelain vases are doll-sized versions of large mantel vases but it's unlikely they were playthings.
In fact, many such pieces were made as as samples for sales reps to use when they met retailers and foreign distributors.
They are sometimes known as mignonettes, from the French word mignon, meaning "cute".
Picture a salesman whipping these tiny treasures out of his briefcase. So much more persuasive than just showing a catalogue!
Miniatures for all tastes
Many mignonettes and miniatures were made during the Art Nouveau and Art Deco years.
Examples exist in metal, stoneware, porcelain opaline glass and different treatments of glass, including cameo glass. 
So-called mignonettes range in height from half an inch to around 4½ inches.
Larger minis were made for displaying in a cabinet of curios. They had one purpose only – to be admired.
Whatever their original purpose, miniatures appeal because they are exquisite. As mini works of art, they show off the skill of the men and women who made them, and tell a story of another time.
All of these items are for sale though not all are listed yet. Please get in touch if you are interested in one we've missed out!