How the Salon des Arts Ménagers shaped French design
The Salon des Arts Ménagers – SAM for short – was France's own "Ideal Homes" Exhibition. From 1926 to 1983, with a gap during WWII, it influenced popular French home design and aspirations like no other event.
The archives – documentary films, adverts and catalogues – are a wonderful window on social history and a France I never knew. They're also choc full of iconic vintage design and strange objects that have gone from being functional to collectable. Flicking through the well-thumbed pages is endlessly fascinating (and a nostalgic treat!!)
Wave goodbye to household drudgery with Mechanical Marie
In the mid-1920s, the mood was upbeat. The economy was booming and Josephine Baker danced to rave audiences wearing bananas, pearls and not much else.
When the first Salon opened, le tout Paris flocked to see what progress looked like. It was a commercial success, with wonders that included  an American show-home built under the glass dome of the Grand Palais.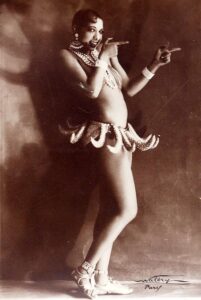 Initially, the Salon des Arts Ménagers was mainly a household gadget-fest aimed at Parisian home-makers. It had a mascot – "Mechanical Marie" – who held out the promise of a mechanised home without grime or drudgery.
But it wasn't long before artists and decorators were promoting Art Deco refinement alongside the last word in modernity and convenience.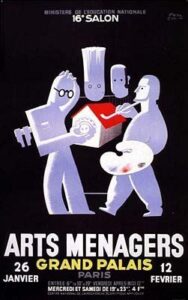 The SAM was suspended during WWII and when it re-opened it was a very different story. It was 1949, and France was in the grip of a housing crisis, with rationing and inflation thrown in. Few visitors could afford what was on display. Mostly, they came to dream, like this  housewife, speaking in 1951:
It's time to go, my kids are waiting for me. And my old kitchen, my gas stove, which is as old as the Ark, my leaky tap and my stone sink. I can still dream. Who knows, I might win the lottery…
The turning point came in 1955, when the SAM attracted 1.4 million people  – and this time they had the cash to spend on their dreams.
Breezy optimisim: modular living
By now, the Salon had outgrown the Grand Palais. It moved to the ultra-modern CNIT (Centre National des Industries et Techniques).
Five floors showcased not just household boons (dishwashers! electric coffee grinders!), but the whole mid century modernist shebang.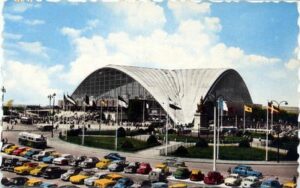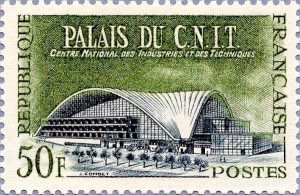 Light wood, modular furniture, strong colour contrasts and surprising materials captured the breezy optimism of the day.
Plastics came of age with faux-rafia and curvy shades.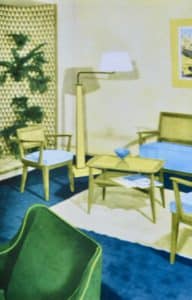 Set the tone with an accent piece
Perforated toleware became fashionable in everything from lemonade glass carriers to jaunty tripod lamps designed by Jacques Biny.
In those golden decades of the SAM, homemakers learned how to turn their cluttered apartments into harmonious havens, dressed with one or two perfectly pitched accent pieces.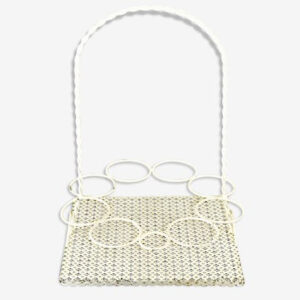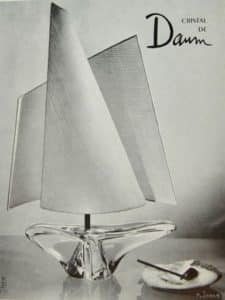 Kitchens come in from the cold
The Salon des Arts Ménagers was a phenomenal success – for many Parisiennes, it was quite simply  the event of the year. You can get a flavour of the SAM in this 1969 film, presenting lots of Loewy, a see-through shower and a new-fangled machine that washes your clothes and then does the dishes. "Judge for yourselves, Mesdames," says the commentator. (Reader, they did.)
But there was already a new kid on the block: Prisunic. The Prisunic catalogue sold furnishings and furniture by mail order all year round. Designer-led yet affordable, it felt fresh and exciting. The death blow for both the SAM and Prisunic mail order came in 1974, when the oil crisis ended the period the French fondly call Les Trente Glorieuses.