Pierre D'Avesn: designs on Art Deco
In an Art Deco world, all seagulls would be elongated and elegant, like the ones that cruise around this vase by Pierre d'Avesn (1901-1984). It was made around 1926-1930, when D'Avesn was working as an independent designer.
Unlike René Lalique or Marius Sabino, Pierre d'Avesn* never owned his own company or became a household name.  Yet his contribution to French glass is considerable, and not just because his career straddled the best part of the 20th century. A man with the right talent at the right time, D'Avesn helped forge the Art Deco style in glass.
*real name Pierre Girre
The Lalique years
D'Avesn received an early artistic training at the prestigious Ecole des Arts Décoratifs. His teachers included the sculptor, Émile-Louis Décorchement (though not, as some claim his more famous son François, ceramist and master of pâte-de-verre). 
However, he couldn't have been there long since, at the age of 14, he was already working chez René Lalique. Lalique had recently begun deploying industrial techniques to create exquisite, sculpted glass – an unheard approach at that time. For a budding young decorative artist in those days, it's hard to think of a more exciting place to start out.
D'Avesn stayed with Lalique for a decade. Two iconic designs, Serpents and Tourbillon (pictured below), are both attributed to him.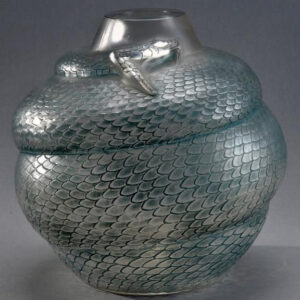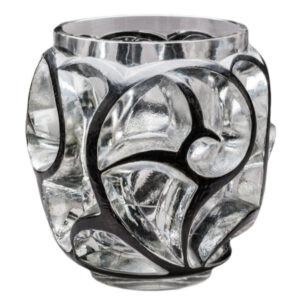 Pierre d'Avesn designed for all the greats (well, almost)
In 1926, in the wake of the Paris Exposition des Arts Décoratifs, d'Avesn took the plunge. He left Lalique and set up as an independent. He designed around 30 pieces in the four years that followed, contracting the production to the Cristallerie de Saint-Rémy. 
Then, in 1930, he was headhunted by Daum to head up a new facility in Croismare making moulded art glass under the name 'Lorrain'. He rose to the challenge with a series of massive, exuberant designs featuring different textural effects in frosted, smoked and coloured glass, sometimes startlingly coloured.
Lalique, Daum, Verlys, Choisy-le-Roi, Sèvres, Vannes-le-Châtel…
Pierre d'Avesn's career spans the French luxury glass industry of the 20th century.
That adventure came to an end with the 'joyous' General strike of 1936. The mood was less than joyous at Daum – the company cut back its activities and d'Avesn was out of a job. For the next 4 years, he worked as manager for another great glassmaker, Verlys (la Verrerie d'Andelys). That was, too, was cut short by WWII. For a time, he went solo again, entrusting production of his designs to the Choisy-le-Roi glassworks, as André Hunebelle, Edward Etling and Jean Luce did.) 
Inexhaustibly creative, D'Avesn carried on designing well into the 1950s and '60s, latterly for Vannes-le-Châtel.