Foxy cocktails
Stylish barware from the age of Art Deco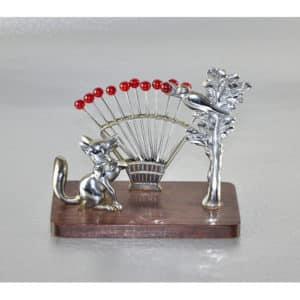 Who could resist the this dapper fox, with his paw on his breast, as he prepares to charm the cheese from the crow's beak?
This French Art Deco cocktail stick set perfectly captures the humour of one of my favourite fables by La Fontaine – "Le Corbeau et le Renard" (The Crow and the Fox).
Any moment now,  the crow will 'sing' and the fox will pounce, teaching him a lesson "well worth a cheese".
No smart French home between 1930s and 1950 was complete without one of these novelty chrome and wood pique à escargots sets. They also featured geese, swans and of course snails. Intended for spearing snails – or cocktail olives –  they're as French as… well, as Jean de La Fontaine.
By Benjamin Rabier, or inspired by him?
Sometimes, you'll see them attributed to Benjamin Rabier (1864-1939), the famous comic animal illustrator, best known for designing the logo for "La Vache Qui Rit" cheese . Rabier's menagerie of animals helped popularise a host of French household brands in the 1920s and '30s, and appeared on everything from Limoges porcelain to children's chairs. But the truth is, we don't know for sure who designed these pick sets. More often than not, they're unsigned.
This little gem is beautifully modelled in chrome and is mounted on a macassar wood base. The crow has a cherry-red bakelite bead in his beak (if it's a cheese, it must be Gouda!) There are 12 cocktail sticks are topped with the the same. It's in lovely condition and is available to buy in my shop.