Louis and Gilbert Metenier – stoneware studio pottery of the Art Deco years
Metenier – or Métenier – is an important name in pre-war French stoneware pottery. Once popular with well-to-do homemakers of the 1920s and 1930s, today Metenier pottery is prized by collectors.
Louis Metenier (1844-1922) founded the first factory in 1916 in an old tile works in Gannat, not far from Vichy.  His designs allied strong shapes with crystalline glazes, which were applied with paintbrush before the final firing. The pottery excelled in dappled glazes, lush greens and a striking blue, soon known as bleu de Gannat, or Gannat blue.
Gilbert Metenier conquers the Paris market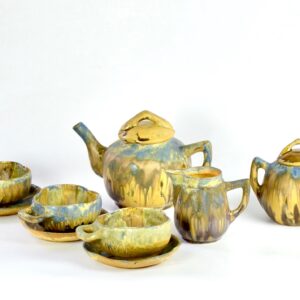 In 1920, Gilbert Metenier (1876 – ?) took over from his father. These were the Art Deco years, but there is nothing obviously art deco about Metenier's designs. He had flair and followed his own design instinct. Some shapes were simple and refined.  Others were complex, with elements of moulded relief and details that hark back to Arts and Crafts style.
Metenier experimented with enamels and colour, using oxides from the Rhone-Poulenc pharmacy factory. Gannat blue was still a staple, but was now joined by subtle glazes, including dusty pink and rich, coppery browns with hints of verdigris. The pottery produced matte glazed coffee services in muted, blended colours that are almost as surprising as the shapes themselves. Don't look for red: strangely, it never featured in the Metenier palette.
Left: a matte glazed coffee service by Gilbert Metenier. Sold.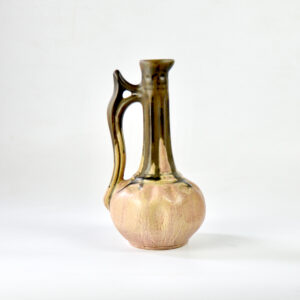 At he height of its success, the Gannat works employed around a dozen people, and catered to a chic, metropolitan clientele. Gilbert Metenier succeeded in striking up deals with big Paris department stores such as le Printemps, le Bon Marché and la Samaritaine, while the pottery also sold from fashionable spots on the Riviera and in Switzerland. Closer to home, the company had a large shop in Vichy, where elegant spa-goers came to take the waters.
Left: a Gilbert Metenier jug with Arts and Crafts influence. Available to buy here 
Identifying Metenier pottery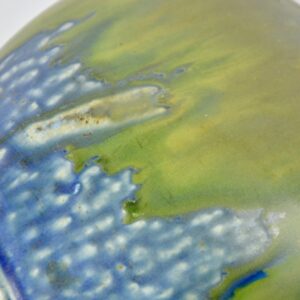 Some factories, such as Denbac, left behind catalogues of all their models. Apparently, the Metenier factory never had such a thing – though if you're very lucky, you might come across one of the miniatures used by the company's sales reps. However, the colours and finish of early pieces make identification fairly straightforward. Some are also signed 'Gannat'. 
Not long into his career, it seems Gilbert Metenier begun systematically signing his vases 'G. Metenier' in script. Signatures may be incised under the glaze, or etched into the glaze, or inked.
Left: detail, speckled glaze in Gannat blue.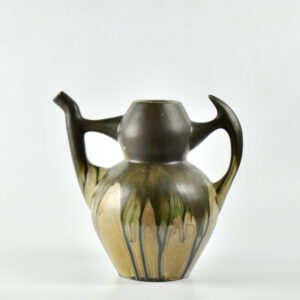 Puzzlingly, not all known Gilbert Metenier pieces are signed. One theory I've heard is that Gilbert Metenier stopped adding his signature in May '39, when the Germans invaded France. It seems plausible. The following year, he went a step further, destroying all his moulds to stop the occupiers from getting their hands on them. He was last heard of in Saint-Raphael before he disappeared without further trace. 
Left: though unsigned, there's no mistaking the author of this massive jug. It's available to buy here
Below, more examples of stoneware pottery by Louis and Gilbert Metenier.