Dragons and pagodas – Johnston et Vieillard Bordeaux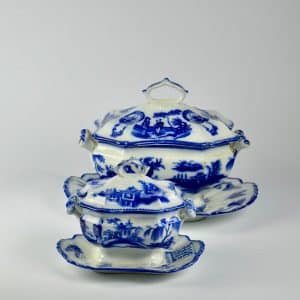 This Johnston et Vieillard porcelain dinnerware is a survivor from the days when ladies wore crinolines, and dinner tables groaned under the weight of china, crystal, silverware and delicacies.
It's from the 'Tonkin' service, and was made in the 1850s, during the Second Empire.
It's beautifully decorated with a chinoiserie pattern of dragons, butterflies, pagodas and engaging vignettes.
I have several rare pieces from the service, including two comports and the full sized tureen. It's so unusual to find it with its original platter.
My personal favourite is the little sauce boat. Shaped like a mini-tureen, it's lovely object for display. In this Post-Sauce-Boat age of ours, it's a reminder of what a sumptuous service this was.
The art of receiving
The 1850s were the start of the Second Empire in France. Under the rule of Napoleon III, manufacturing flourished and gave rise to a new, wealthy bourgeoisie.
To show off their success and their art de vivre, they threw themselves into receiving guests in lavish style.
English porcelain was highly admired and coveted. David Johnston successfully catered for this demand with his partner, Jules Vieillard. Johnston made porcelain using Staffordshire techniques. For a while, he even piggybacked on the Bordeaux wine trade, shipping raw materials from England on wine clippers.
This expensive, fashionable service would have done a table proud. The pieces  pictured are available to buy here.
SaveSave
SaveSave
SaveSave
SaveSave
SaveSave
SaveSave
SaveSave
SaveSave
SaveSave
SaveSave
SaveSave
SaveSave
SaveSave