Mado Jolain – a ceramist for all seasons
This month, we couldn't resist featuring this uncommonly stylish 1950s vase, which is currently available to buy.
With its organic shape, elegant proportions and swirly, bubbly decor, it has pretty much all you could ask for in a vase by the French ceramist, Mado Jolain.
Mado Jolain (1921-2019) studied at the national École des Arts Décoratifs and at La Grande Chaumière. She started out making buttons – literally, I mean – rather like the boys at Accolay were doing.
With her husband, the abstraction lyrique painter, René Legrand, Jolain began making functional pottery. René turned the pottery; Mado decorated. Rapidly, she began to assert a style of her own.
Photo, Lagrandenne: Mado Jolain in her first studio in rue d'Alesia, Paris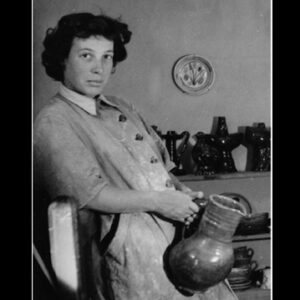 Mado Jolain, Primavera and Quatre Saisons
Before Mado Jolain reached her 30th birthday, her talent was spotted by Colette Guedon, head of the prestigious Primavera studio. Jolain designed for Primavera from 1950 to 1955.
By now, her work was also being shown in top Paris galleries such as la Galerie du Siècle. On the wave of success, the couple opened a first store under their own label, Quatre Saisons, selling a self-designed range of casual, modular furniture. Their approach was ahead of its time.
Like many of her generation, Jolain was inspired by folk art and utilitarian pottery of the past. From that starting point, she brought a freshness and originality all of her own.  
Typical of her 1950s output are her pinched, holed or 'eared' vases that transform shapes rather than deform them. Her decors were refined and increasingly abstract, with soft, satin glazes, etched lines, solid colours and streaks… (like the curve of orange that beams like a smile 🙂 from our vase.)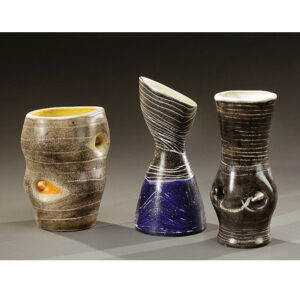 Step into the garden, Mado…
By the 1960s, Mado Jolain had set up studio in Champigny, south of Paris. She marked the decade, her last as a ceramist, by designing outdoor ceramics –  planters, 'light catchers' screens and other features.
Shapes became purer. Glazes went monochrome. 
Perhaps the most emblematic pieces from this time are from her 1960 'engrenage' series, a range of textured faience resembling gears and glazed in lovely, luminous shades of green or yellow.
Jolain's work was somewhat neglected after she retired…but not for long. A brace of major retrospectives post 2000 sparked a revival of interest, one that isn't showing any signs of abating…
Below and above are examples of Mado Jolain pottery sourced from Pinterest, past auctions and items that have sold on online platforms such as eBay or 1st Dibbs.