Why pottery lovers can't resist La Puisaye
This summer, we went pottering in a town famous for a 500-year-old stoneware tradition –  and for sparking off a French ceramics revival.
Saint-Amand-en-Puisaye is one of those beguiling Burgundy towns surrounded by rolling countryside, where chateaux pop up over every hedgerow.  Oh, and it also this rather lovely fountain…
Around 350 years ago, the business of making domestic pottery really took off in La Puisaye. Back then, France was a country of paysans (we'd call them small farmers) and, preserving and storing food the old-fashioned way was an essential part of daily life.  Confit pots, cruches, bonbonnes, toules, chevrettes, gargoulettes, jattes, gourdes, pichets… you name it, it was turned and fired here.
At the height of the activity, Puisaye stoneware was used in homes and farms from the Loire valley to Paris, and even as far away as Quebec and Louisiana. 
But by the 1850s, the demand fell off dramatically, as consumers abandoned rustic pottery for semi-industrial products….
A visit to the old Gaubier Puisaye factory
A few family potteries clung on. Gaubier was one of them. It survived by making a range of gaudy, glazed souvenir pottery, often mistaken for Vallauris. 
When it closed – in the 1960s! – the old works were left intact.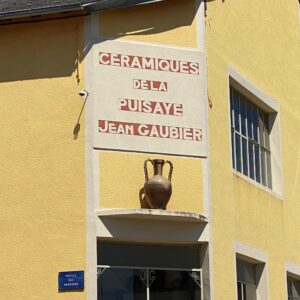 In the workshop, you can see where the clay was trampled under foot to remove impurities and make it malleable. Nearby, throwers turned out everything from litre jugs to bonbonnes*, so large they had to be made in two halves and then joined.
* large jars for storing oil or wine
An anachronism wrapped up in a time capsule
In the storeroom, pots stand waiting to be glazed or fired. Our guide shows us how the womenfolk deftly turned fat clay sausages into tapered handles.We stand inside the huge kiln, where batches of pots took a week to fire before being dispatched along the Loire or by canal.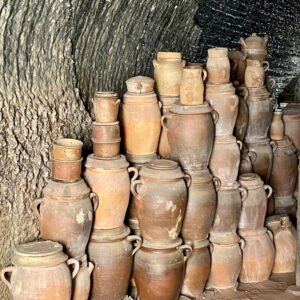 The vaulted roof is studded with man-made stalactites. When they dripped, they left caramel streaks and scorches known as 'potters' tears'.
For connoisseurs, these features add to the unique beauty of the pots.
It strikes me that the Gaubier factory is not just a time capsule – it's an anachronism wrapped up in a time capsule.
That's because the techniques on display here were passed down the generations and hardly changed in 300 years.
Jean Carriès breathes new life into La Puisaye
I've touched elsewhere on the remarkable sculptor who came here to experiment with stoneware. The arrival of Jean Carriès in 1888 breathed new life into La Puisaye. For Carriès, the 'skin' was the thing – he was obsessed by patina in his pottery as in his bronzes. He was strongly drawn to the shapes and glazes of Japanese pottery, recently seen for the first time in France. Linked to the Symbolist movement, he had a flair for the grotesque. With so many influences, Carriès is virtually impossible to pigeonhole. One thing is clear – his ceramics not only caused a sensation in their day, but also revitalised the art of stoneware pottery.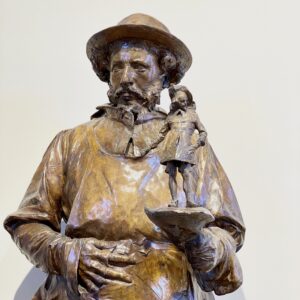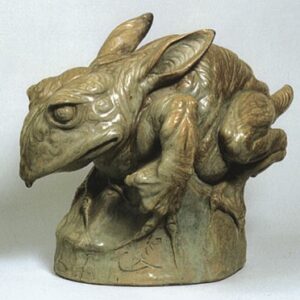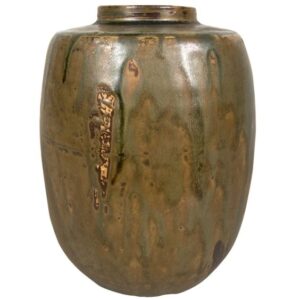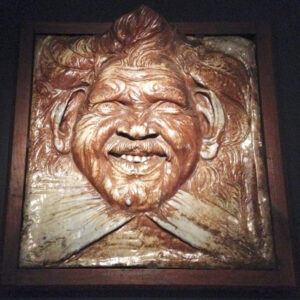 L'École de Carriès
When Carriès died suddenly of pleurisy aged 39, a new generation of ceramists came to La Puisaye to carry on where he'd left off. Among the most talented and innovative were Paul Cyprien Jeanneney, Eugene Lion, Nils de Barck and Jean Pointu. They were in turn followed by Léon Pointu and Jean-Marie Maure and a host of others. Today, La Puisaye still has a strong creative vibe, attracting art potters from France and beyond.
For fans of stoneware pottery, the town's Musée du Grès – in a chateau, where else? – is a paradise. Whole rooms are devoted to Carriès and the artists who followed him, while the top floor showcases contemporary art pottery in La Puisaye.
And, joy of joys, there are also lots of wonderfully ancient confit pots, cruches, toules, chevrettes, gargoulettes, bonbonnes, jattes, gourdes and pichets…