The Road to Accolay
On the trail of Mid-century French ceramic design
Few items sum up French mid-century optimism better than this beautiful Accolay hand-thrown pottery vase. In the 1950s and 60s, a stop-off at the Accolay pottery studio was a ritual for Parisians driving down south to spend summer on the south coast of France.
Buttons for Dior
Accolay was founded by four young artists, André Boutaud, Louis Dangon, Slavic Paley and Raude. In 1944, they were apprenticed to the celebrated ceramist, Alexandre Kostanda  (initially, they claimed, in order to escape forced labour under the German Occupation.) When the war ended, they started an experimental pottery in a disused factory in the little village of Accolay, in Burgundy. The turning point came when  Christian Dior ordered 300 of their ceramic buttons for his New Look collection. From there, they were on the road to success.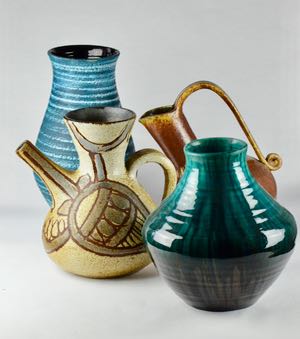 "Nationale N6…une route qui fait recette"
Accolay pottery was functional, sculptural and totally in tune with the times. The pottery benefited from its prime position along the Nationale 6. Throughout the 1950s and '60s, Accolay was one of the highlights for French holidaymakers making the 600 mile trip from Paris to the Côte d'Azur. Megalithic vases marked the entrance to the shop.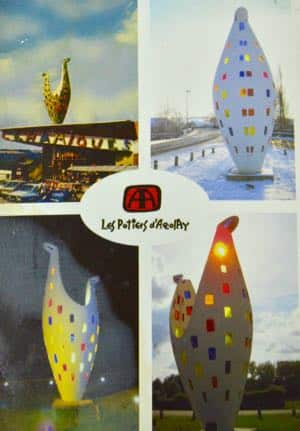 With the arrival of the motorway, the traffic dried up and Accolay went out of fashion. Vases and jugs were broken or carted up to the attic, waiting to be re-discovered by a new generation who love French mid-century design and vintage ceramics.
The large vase you can see at the top of the page is from around 1950. It's hand-thrown, with grooves accentuating an elegant baluster shape. The glaze is Côte-d'Azur-blue with strands of white and black; matte and very tactile. You can find it in our shop.