Legras glass, the powerhouse of Pantin
You can almost smell the crisp, wintry air. Forest scenes like this appear again and again on Legras glass. They recall the forests of the Vosges, where François-Théodore Legras (1839-1916) worked, like his father, as a woodcutter – before going on to build one of France's great glassmaking empires.
A vocation for glass… and business
Legras' big break came at the age of 20, when he landed an apprenticeship with a local glassworks. Once trained, he left to seek his fortune in Paris. That led him to the Plaine Saint-Denis glass factory in the north of the city. He must have stood out from his colleagues because after only 3 years he was the factory's director!
In the early years, Legras quickly focussed on two distinct markets. For the middle classes, he offered good quality decorative glass at accessible prices.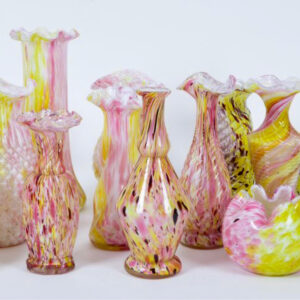 Alongside that, he catered to the huge demand for utilitarian glass from Paris's many distillers. Legras eventually came to dominate the niche market in novelty liqueur bottles. Today, the most elusive pieces set pulses racing 😉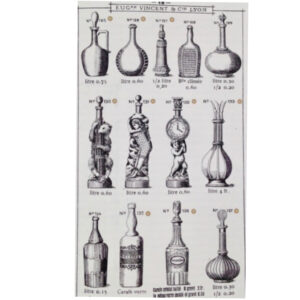 In 1883, François-Théodore Legras teamed up with the philanthropist Sir Richard Wallace – he of Paris's famous Wallace fountains. The partnership enabled him to fund a massive factory expansion and buy a second factory in Pantin, north-east Paris.
By the end of the century, Legras was running a vast industrial complex employing nearly 1,300 people, including many skilled glass workers from the Vosges.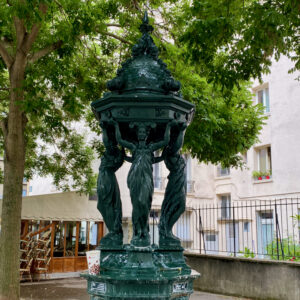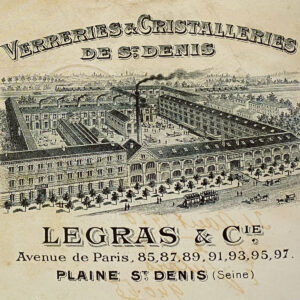 Legras art glass comes of age
In terms of art glass, Legras was now able to up his game considerably.
With his nephews, Charles and Théodore Legras involved in design and production, the company won Grand Prix at the 1889 Paris Universal Exhibition. The jury was particularly seduced by a new line of opaline lined glass resembling marble and overlaid with gold.
Jewel-coloured vases with graceful enamelled flowers were a signature of Legras.
With their flowing, naturalistic lines, these vases reflect the Art Nouveau sensibilities of the day.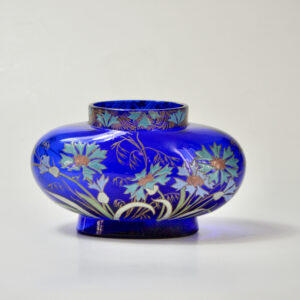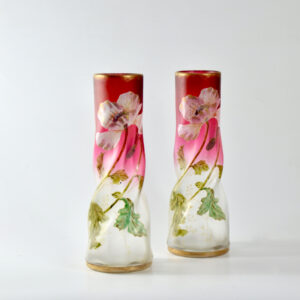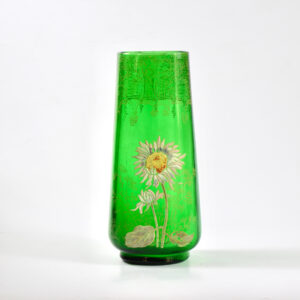 By now, the company was producing high-end vases and lighting.
Cameo glass, wheel engraved, enamelled, gilt or with sparkling inclusions … these prestigious pieces involved up to five firings and stood comparison with that of the best French glass of the day. Many of the most stunning pieces have the 'Montjoye' signature.
Speaking of signatures, Legras used quite a number – and, to confuse matters, some pieces aren't signed at all.
One signature that's often seen is 'Leg.'. These attractive pieces have less complex decors than 'Legras' or 'Montjoye' and sold less expensively. They date around 1914-20, when many skilled workers were away at the Front.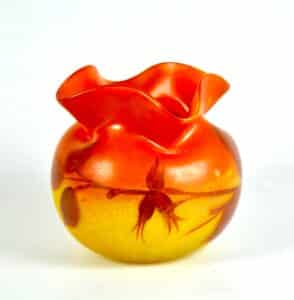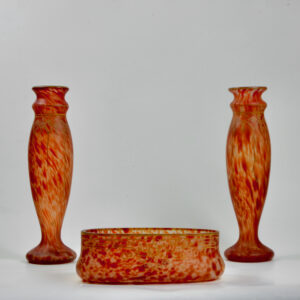 In the 1920s, Art Nouveau began to make way for Art Deco. Legras marked the decade with transitional designs like the yellow and blue enamelled, Printania series, then all-out geometrical designs, produced for Paris's Exposition des Arts Decoratifs in 1925. For my money, they are some smartest designs in French Art Deco glass
For Legras & Compagnie, it was also the final chapter. Charles Legras died in 1922 and Théodore sold the business in 1928, neatly missing the Wall Street Crash.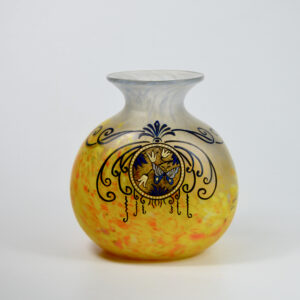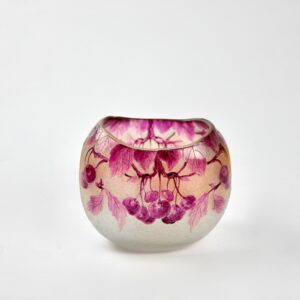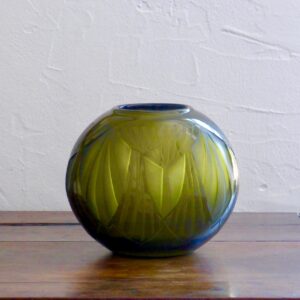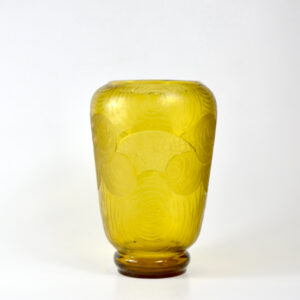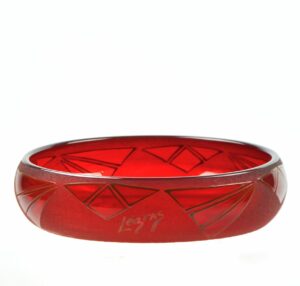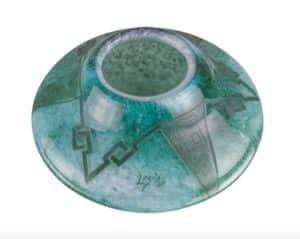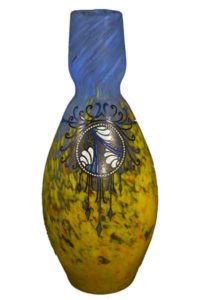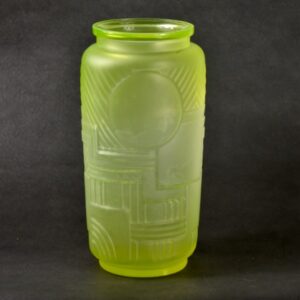 Until recently, Legras tended to languish behind bigger names in French glass, but interest and appreciation is increasing. It's nice to see. There are two reasons for this. One is simple – pieces are getting scarcer and harder to find. The other factor is that we know more. Thanks to a super reference book Legras : Verrier Artistique et Populaire Française by Michel and Vitrat, Legras has come out of the shadows.