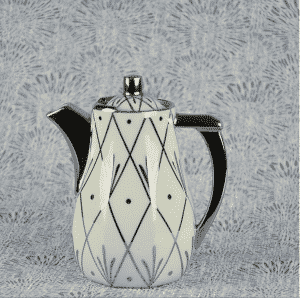 Chilly days call for chocolate chaud – especially when it's served in something as pretty as this French vintage Aluminite Frugier porcelain breakfast pot from the 1920s/30s.
It's ideal for two people, or just for treating yourself. (Qui peut le plus, peut le moins*, as the French saying goes).
Rescued from decades of dust, the silver glaze as bright and lustrous as the day it was fired. Then again, barring accidents involving soapy hands and flagstone floors, Aluminite Frugier was designed to last, shiny glaze and all.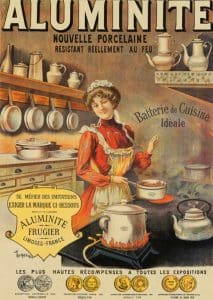 Aluminite cookware – a kitchen breakthrough
Aluminite Frugier was one of the great French kitchen innovations of the Belle Époque. Its inventor, René Frugier was a ceramic engineer who trained at Sèvres, before setting up own pottery factory in 1895 in Limoges, the porcelain capital of France.
Frugier & Cie started out as one of dozens of Limoges porcelain factories. It soon set itself apart, though.  Around the turn of the century, René Frugier began to experiment by adding different amounts of kaolin to the pottery mix. That meant he could then fire the porcelain at very high temperatures. The result was "aluminite",  a range of fancy porcelain that could resist temperatures 300 degrees apart, and still come out looking great.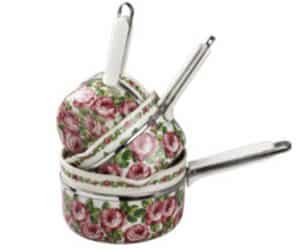 Transforming the culinary arts
And so, fashionable oven-to-tableware was born. Today it's hard to imagine the household revolution that Aluminite brought about. No more cracking, craziness or fading motifs. No more juggling between stove pans and porcelain tureens, all the while trying to keep food hot. Aluminite Frugier had everything covered, from ceramic saucepans to flan dishes. Not to mention diminutive breakfast pots….
* If you can do the big stuff, the small stuff is easy.