French Limoges porcelain gets the Loewy look
It's 1967, and in Limoges a small revolution is afoot, led by Pierre Bernardaud, director of Bernardaud porcelain, and Raymond Loewy, the father of industrial design.
Bernardaud, Limoges specialised in high quality porcelain tableware which sold in France and America. Pierre was the fourth generation Bernardaud to run the family business, and he had inherited healthy order books when he took over in 1962.  In those days, Limoges porcelain was still an "everyday luxury" – you either owned a Limoges dinner service, or you aspired to one! 
Even so, the new director understood sensed that times were changing and he was determined to move with them. 
Raymond Loewy, a world class talent
Commissioning the French-born designer, Raymond Loewy was a shrewd move by Bernardaud. Loewy was a household legend who had made the cover of Time magazine in 1949, billed as "the man who streamlines the sales curve".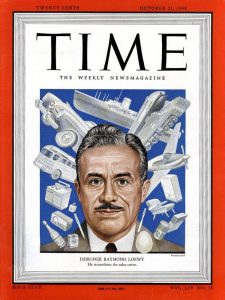 With a line-up of design credits that included the Coca-Cola bottle, the S1 locomotive, the Greyhound bus and Le Creuset's Coquelle series, Loewy was at the top of his game.
It was the perfect ticket: a prestigious designer for a prestigious manufacturer.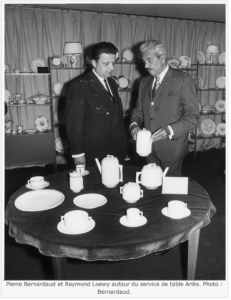 Bernardaud "Ariès"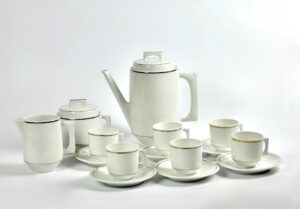 Bernardaud wanted to bring freshness to the Limoges tradition, and this uncluttered and ultra modern design did just that. Raymond Loewy's choice of stark white porcelain over pattern was unprecedented. (Other manufacturers would of course follow suit).
With its soft geometry and refined lines, Loewy's Ariès design achieved something special. It showed that a Limoges service was not only an heirloom gift or a status symbol; it could also be futuristic and sexy.
Left: Bernardaud Ariès coffee service for 6. Available to buy here.
About French Limoges porcelain
Limoges porcelain dates back to the 18th century, when kaolin – "white gold" – was discovered near the city. But the industry didn't really take off until the mid-19th century, when a new comfortably-off bourgeoisie emerged. That led to a demand for fine porcelain that expressed the French art de vivre: the pleasure of eating, entertaining and living. By the 1890s, there were 30 different manufacturers, employing some 10,000 people in and around the city of Limoges.
World War One and the Depression swept away many of the great Limoges manufacturers. Using antique Limoges porcelain really conjures up the bygone elegance of another age. Some of the names I look out for are Pouyat, Guérin, Touze, Lemaitre et Blancher and Lanternier, but there many others that are less well documented.
And today? Limoges porcelain is still made in Limoges, I'm happy to say, by a handful of companies, employing a skilled workforce of around 1000 people. Haviland and Bernardaud (still a family company) are the leaders, dominating a luxury market in designer and bespoke porcelain. Clients include gastronomic restaurants and the lucky few. Hand made and labour intensive, a single dinner plate can cost as much as $900.