A French history of the designer silk scarf
In the olden days, you could snuggle up in a shawl or tie a neckerchief around your neck. But the French silk scarf, as we know it today, wasn't really a fashion item until the 1930s. Et nous voilà… eighty-odd years on, nothing spells French chic more than a luxurious piece of patterned silk with hand rolled hems.
These frivolous, floaty, feminine accessories weren't particularly intended to last for 30, 40, 50-odd years. But many have, thanks to their quality and the way they were cherished. That's part of the appeal of French vintage silk scarves. 
The silk scarf square came of age as the great French fashion houses began to diversify from haute couture into prêt-à-porter.  The big couture names vied with each other to produce ever more eye-catching and elegant designs. Joined by French luxury luggage and perfume brands – Hermès, Lancel, Cartier – they had many of the scarves made in Lyon, France's silk capital. Below, some of our favourites… more to come!
Image "La Parisienne" 1946, © Palais Galliera, musée de la Mode de la Ville de Paris
French vintage couture scarves
Christian Dior scarves
Christian Dior (1905-1957) might have been an art dealer if the family fortunes hadn't disappeared with the Wall Street Crash, causing him to change course. In 1946, he launched his couture house, backed by the home textile giant, Marcel Boussac. His lavish bell-shaped dresses, dubbed The New Look, had women everywhere swooning . He died suddenly leaving a brilliant fashion legacy, his name a byword for elegance.
Yves Saint Laurent scarves
Head of Dior at the astonishing age of 21, Yves Saint Laurent (1936-2008) took the fashion world by surprise time and again – with his safari jacket, his "smoking", sported to perfection by Catherine Deneuve, his Mondriaan dress….  Among his most prized scarves are his Four Seasons scarves from the 1980s (you can see Autumn and Winter below).
Balmain scarves
Pierre Balmain (1914-1982) and Christian Dior designed  alongside each other for  Lucien Lelong, and Balmain went solo a year before Dior. Sombre, muted colours are one of his hallmarks of his style. Renowned for his elegance à la française, he dressed French stars Michèle Morgan, Simone Signoret and Juliette Greco and also Hollywood goddesses such as Ava Gardner and Rita Hayworth.
Jacques Fath scarves
There's been a revival of interest in Jacques Fath (1912-1952), and it's well overdue. Self-taught and hugely talented, Fath was a dominant figure in French post-war fashion. His clientele included Ava Gardner, Greta Garbo and Eva Peròn.  Couture activity ended in 1957 but the company continued producing accessories. Valentino, Givenchy and Guy Laroche all started out chez Fath – but we'll save them for another day…
Lanvin and Lanvin-Castillo scarves
Antonio Castillo (1908-1984) designed for Coco Chanel and Schiaparelli before reviving Lanvin after the death of Jeanne Lanvin. On a number of scarves, his name appears jointly with Lanvin's. Lanvin-Castillo scarves are marked by their originality, from vivid abstracts to figurative designs full of shadows and mystery.
Pierre Cardin silk scarves
Pierre Cardin (1922-2020) worked for Schiapparelli and Dior before opening his couture house in 1950. Brilliant and dynamic, his first breakthrough came with his 1954 'bubble dress'. In the 60s, Cardin, Courrèges and Paco Rabanne formed a trio of futurist designers. When not dressing the Beatles or Lauren Bacall, he was scandalising the haute couture world with his embrace of prêt-à-porter.  From Space Age designs to timeless chic, Cardin silk scarves warrant a place in any wardrobe.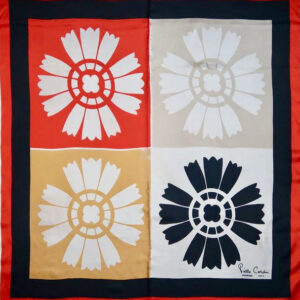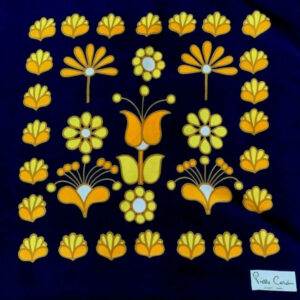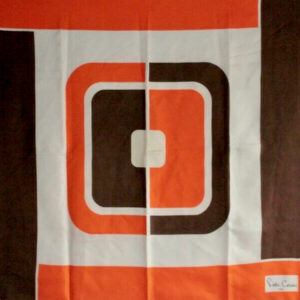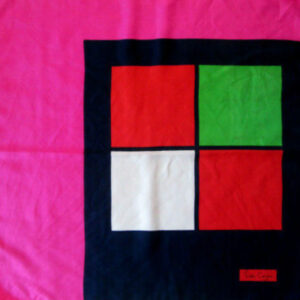 Patou scarves
After the death of the charismatic Jean Patou,  a series of great designers revitalised the house he founded. In the 1950s, it was Marc Bohan , followed by Karl Lagerfeld in the 60s, Jean Paul Gaultier in the 70s and Christian Lacroix in the 80s. The fashion label ceased in 1987, when Lacroix left to set up his own couture house.
Jacques Griffe scarves
Jacques Griffe (1909-1996) earned his reputation working alongside the great couturière, Madeleine Vionnet before opening his own couture house. In the 1950s, he took over from another of the early 20th century Paris couturiers, Edward Molyneux. Griffe also designed for the stage, so it's no surprise that his many Griffe scarves have a theatrical, narrative quality.
Jacques Heim scarves
Jacques Heim (1899-1967) ran a highly successful couture house, which closed when he died. A Resistance agent during the war, he went on to dress bombshells such as Sofia Loren and Brigitte Bardot. As head of the Paris couturiers' chamber of commerce, he helped the industry navigate the age of prêt-à-porter. 
Maggy Rouff scarves
Scarves by Maggy Rouff have a rare graphic quality, and are among some of my personal favourites. Belgian by birth, Rouff  (1896-1971) founded her fashion house on the Champs-Elysées in 1929. Maria Callas and Grace Kelly were among her clients.
Jean Dessès scarves
Jean Dessès (1925-1970) dressed queens, princesses and film stars. After he retired in 1968, he virtually became a footnote in the history archives. But now the Hollywood A-list has re-discovered him and the rest, as they say, is history.…
Ted Lapidus scarves
Ted Lapidus (1929-2008) trained at Dior before becoming the darling of the French New Wave. He designed for Brigitte Bardot and Alain Delon, led the unisex movement and was responsible for introducing jeans into haute couture. The loveliest Lapidus silk scarves stand out for their bold contrasts and sassy geometric lines.
Henri à la Pensée scarves
Not a designer but a name that deserves a place in our Who's Who. Henri à la Pensée was a chic Paris shop that first opened its doors in 1809 (Maison Henri's painted shop sign c1900, pictured, now hangs in pride of place in Paris' Musée Carnavalet). 1950s own-name scarves in Lyon silk are elegant and beautifully made and we're always pleased to come across a beauty that hasn't been worn to death 😜