Opulent, opalescent, Etling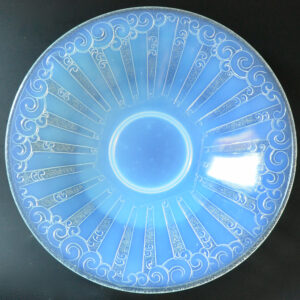 In the spotlight this month: a gorgeous French Etling opalescent glass bowl from around 1925.
The pattern is Les Veloutes, model number 251. It has everything you'd look for in Art Deco opalescent glass –  shades of milky turquoise and transparency, the sweeping sense of motion, the contrasting textures.
It's easy to see why Etling glass is often compared to René Lalique. And, like Lalique, it required the most formidable skills to make.
Finest opalescent glass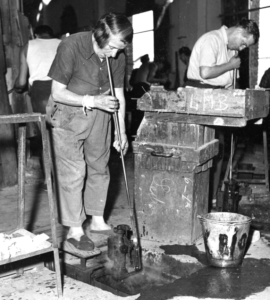 Those skills were to be found at the Cristallerie de Choisy-le-Roi, a grand old factory which had just taken over the Cristallerie de Sèvres.
Today, Choisy-le-Roi is a just another Paris suburb but in the 1920s and '30s it was a powerhouse, turning out the finest opalescent glass in Europe. André Hunebelle, Jean Luce and Albert Simmonet all had their designs made at the factory. Edmond Etling – Art Deco patron, retailer and style arbiter par excellence – was an important customer.
Left: Marie Ladigu, Choisy's only female glass blower.
Paradise Road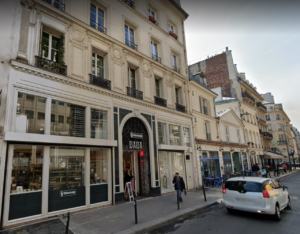 Edmond Etling had an important influence on Art Deco taste. Strollers in Paris can still see the ghost of his luxury emporium, now an organic supermarket (see left). Behind the wrought iron doors of 29, rue de Paradis lay a heavenly choice of items Etling had commissioned. There were chrystelephantine (bronze and ivory) sculptures by Chiparus, ceramics by Marcel Guillard, Art Deco lamps made at Etling's own foundry. And of course there was Etling art glass galore – including, no doubt, our Veloutes bowl. Etling commissioned all his pieces from a stable of talented artists and designers, including Lucie Sévin, Georges Béal and Géza Hiecz.
We began with beauty but this story has an ugly end. Around 1940, Edmond Etling was sent to a Nazi concentration camp where he died, along with his family and some employees. The shop on the rue de Paradis closed; the dazzling commissions stopped.
Virtually all the Etling glass production, and all the signed and numbered pieces, are from the 1920s and 30s.