A miniature 1940s Paris Metro newsstand aperitif set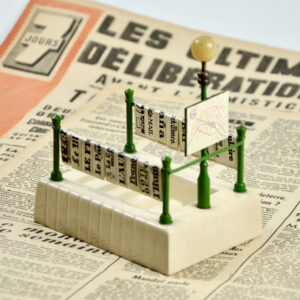 Time stands still at this Paris Metro newsstand, a very rare novelty drinks marker from the late 1940s, available to buy here.
Some Metro lines are missing from the map. Others stop short of their destination.
As for the wee, folded newspapers for marking your glass, half the titles vanished before you or I were born. Le Populaire, anyone?
War is now a memory and French people are becoming better off. We're at the start of the 30 year boom period that will eventually become known as les Trente Glorieuses.
Apéros and cocktail parties are back, along with guests who muddle up their glasses after a few sips … hence the appearance of novelty aperitif sets. By the 1950s, novelty drink markers have joined knife rests and cocktail stick sets as needful things, accessories in the French art de vivre.
This is a particularly fine example, only the second I've ever come across.  It has appeal for anyone who loves Paris Metro memorabilia, or one-of-a-kind barware, or – like me –  is fascinated by the evolution of the media.
Sure enough, the 20 newspapers include existing titles such as Le Monde, le Figaro, the sports paper, l'Équipe and le Canard Enchainé* (a French satirical paper rather like Private Eye.) Like all good city newsstands, there's also a clutch of foreign papers, in English, Spanish and Hebrew.
And the bygone titles? They include Combat, once edited by the writer, Albert Camus. And, look, there's L'Aurore, owned by Marcel Boussac, the fabric tycoon who bankrolled Christian Dior's couture career.  Most intriguing is Le Franc-Tireur, first published by the Resistance as a clandestine newspaper before petering out in peacetime.
There's a whiff of Liberation about this little bar accessory, Let the good times roll!
Now, what will you have? 😀🍸
* Literally the Chained Duck. A "canard" is a news rag.