Jean Pointu, Léon Pointu: refined shapes and sublime glazes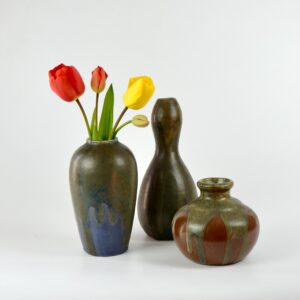 Spring has sprung, and to prove it, the tulips are bursting into colour. (I love the fact that nature is oblivious to the headlines, don't you?)
They're modelling stoneware pots by Jean Pointu and Léon Pointu, a father and son duo who made an important contribution to 20th century pottery. Well known to French pottery lovers, the Pointus specialised  in refined shapes and gorgeous glazes.
Jean Pointu and the École de Carriès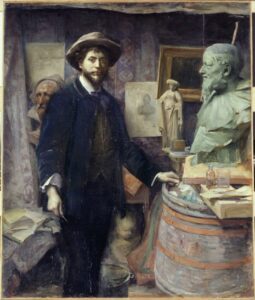 Jean Pointu (1843-1925) was a seasoned potter who spent most of his career working in faience and majolica, latterly with his own business in Fontainebleau. In his early 60s, he seems to have had an epiphany, upping sticks to start afresh in St-Amand-en-Puisaye in Burgundy.It was a decisive choice.  Rich in clay, St-Amand had a five-century-long tradition of making robust salt glazed pots for storing and preserving foods. You can see an example here.
In the 1890s, however, the area acquired a much more creative dynamic, with the arrival of the famous sculptor Jean Carriès (1855-1894).  Inspired by Japanese pottery – one of the great revelations of the 1878 Paris Exposition Universelle – Carriès devoted himself to artistic stoneware until his death. Pointu was in turn inspired by Carriès and was even able to recruit some of Carriès' former craftsmen for his own atelier.
The characteristics of Jean Pointu's pottery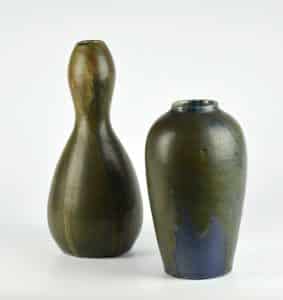 Pointu was meticulous in striving to master his glazes, leaving nothing to chance to achieve the effect he desired. 
Pointu's colours tend to be muted, with glazes that fold subtly into each other. The keyword is control: there are none of the 'random' drips or textural effects you see in the work of some of his contemporaries. 
In terms of shape, it's  all about economy and purity (there goes that Japanese influence again). It's invariably the glaze that does the talking. The results are extraordinarily beautiful.
Léon Pointu asserts his style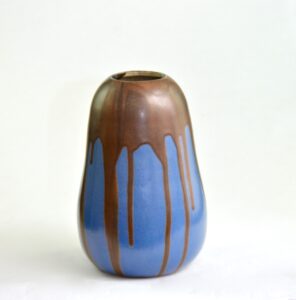 Léon worked closely with Jean in the early years and without the aid of a signature it can be pretty hard to tell the son's work from the father's.  But after Jean's death, a distinctive Léon Pointu style emerged
The Japanese influence receded. Colours got brighter and contrasts stronger. Handles began to make an appearance. The studio began to turn out larger pieces. 
In the late 1920s, Léon Pointu developed a new glaze effect – Peau de Serpent (snakeskin), which was both striking and technically tricky.
Other additions included platinum or gold drips on a dark enamel background.
The technique, invented by Louis Bridoux, was used by several factories, but examples by Léon Pointu are, I think, some of the most stunning.