Fantastic plastic : Lea Stein jewellery (1968 -)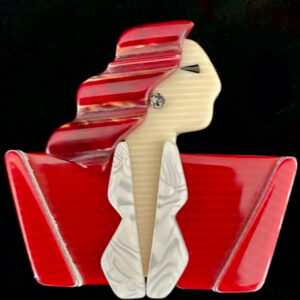 What's Made In France, highly collectable and so good looking you don't know whether to wear it or eat it?  Lea Stein jewellery never seems to go out of fashion. Ten things you mightn't know …
1. Rhodoid sandwiches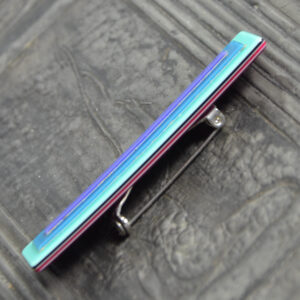 Lea Stein jewellery is made from a cellulose acetate polymer, rhoidoid. No, Madame Stein's husband didn't invent it, but he did develop a process for bonding layers to form the polychrome plastic Lea uses in her jewellery. Typically, brooches contain around 10 wafers of rhodoid. Some items –  bangles, for instance – have 20 or more.
2. Razzle dazzle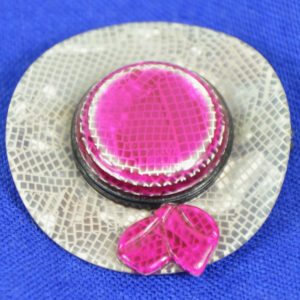 Lea Stein brooches often feature optical or textural  effects – iridescent, snakeskin, shagreen, mosaic, tortoiseshell and so on.The effects were created by inserting foreign materials between the layers. Think lace, metal, mother-of-pearl, even straw, we're told…
3. Patience, a virtue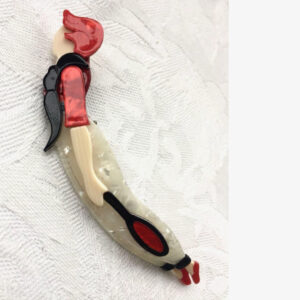 Lea Stein jewellery is notoriously time-consuming to craft, but that's nothing compared to the time it can take to get the design just right. Prototypes can take 6 months to perfect.
4. Early? Late Lea Stein?
Lea Stein falls into two periods. 'Early', first generation pieces were made between 1968 and 1981. Second generation creations are from the mid-'80s to the present day.
At the height of production, Stein employed around 50 people.
5. Lea Stein serigraphy brooches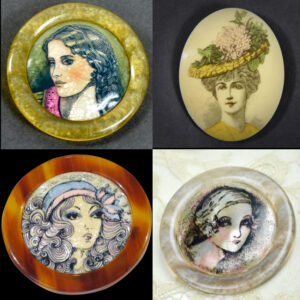 The serigraphy brooches are from the 1960s and '70s and are almost always unsigned. The most collectable are the romantic or nostalgic female portraits. Where there is a frame, it's patterned and chosen with care to complement or contrast with the portrait. This detail adds a luxury touch to the brooch, quite unlike run-of-the-mill brooches made around the same time.
6. Cocorico?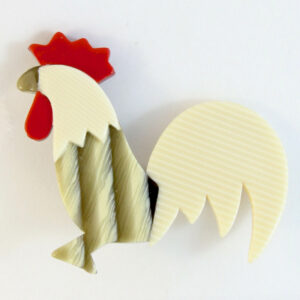 According to Belgium's Le Soir newspaper, Lea Stein designed a series of animal brooches for Chanel in the 1950s or 1960. Pity they didn't say which 🙁
7. Cute kid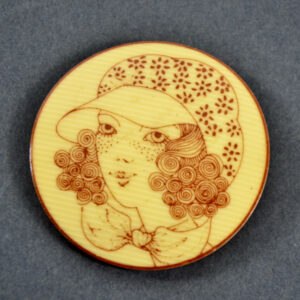 Love it or hate her, this freckled girl dressed in a floppy hat and bow was designed by Lea Stein for the trendy Paris boutique, Gudule. To Paris vintage fashionistas, Gudule is best known as the place where grand couturier Thierry Mugler got his first break.
8. Art Deco dash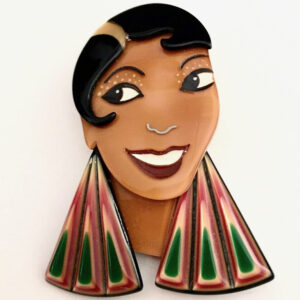 Combining geometry, colour and whimsy, a lot of Lea Stein jewellery has a real Art Deco vibe to it. Sometimes it's an open tribute, as with this Josesphine Baker brooch.
The late 1960s and '70s marked a comeback for the Art Deco look. Lea Stein fits into that revival – her designs have all the fun and easy glamour of the Jazz Age.
9. Bestselling pooch
One of several doggy brooches Lea Stein designed, Ric the terrier is a hat tip to the 1930s French canine strip cartoon, Ric et Rac.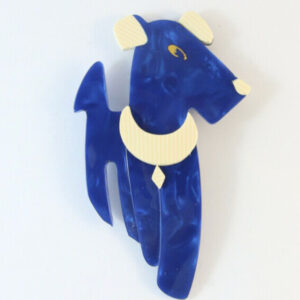 10. Modern collectables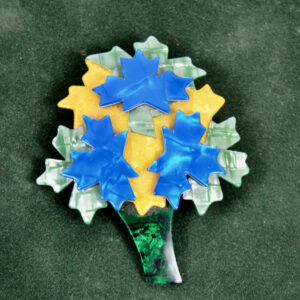 Lea Stein still creates a new design each year. Eagerly awaited by collectors, they are produced in smaller numbers and hold their value well.