Robj Paris – a taste of Art Deco
We recently acquired this quirky quartet of Art Deco liquor bottles by Robj Paris – they're available to buy here. But who or what was Robj? Time to revisit the story behind these whimsical objects from the Jazz Age…
The company was founded by Jean Born, and its strange name is simply an anagram of his name. The business specialised in ceramic novelties and lighters and was a modest affair. It would no doubt have been forgotten by now, if it hadn't been for Born meeting an untimely end in 1922.
The man who took over the business and transformed it in a few short years was Lucien Willemetz. One of his strengths was knowing just how to attract and encourage the right modern talents to design for him. Another was his flair for marketing.
When Paris oohed-and-aahed at the 1925 Expo des Arts Déco, Robj was there, showing off its goodies, and winning a bronze medal in the process.
Flush with success, Willemetz launched an annual design competition for the best ceramic novelty.
A prestigious jury included the head curator of a major Paris museum, and the sculptor, François Pompon (he of the life-size polar bear in the Musée d'Orsay).
Serious prize money attracted well-known sculptors, such as Charles Lemanceau, who won top prize in 1929.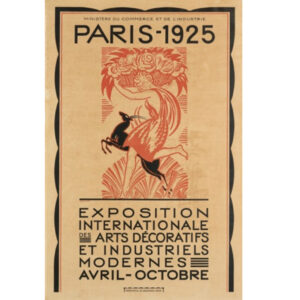 Robj was an 'éditeur' which means the company didn't make anything, but instead commissioned pieces (by now, ceramics, glass and lighting) and sold them under its own name. The porcelain whiteware was made by the finest factories of the day. They included the Manufacture de Sèvres, Villeroy et Boch in Luxembourg and Michelaud Frères, one of a handful of Limoges manufacturers. 
Robj had a wholesale shop at 3, Cité d'Hauteville, not far from Paris's Gare de l'Est. Items then retailed from all the very best Paris shops. (One such was that beacon of Art Deco style, Maison Etling in the Rue Paradis.)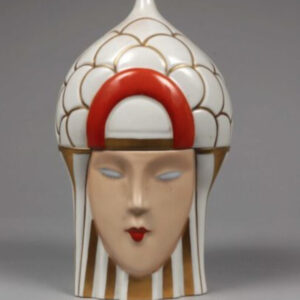 A Robj bottle for every tipple
Thanks to the 1925 Paris Exposition des Arts Déco, people were placing greater value on the decorative arts. While few back then would have known the word 'design', they recognised it when they saw it. They sought to express their style in their homes and through their 'art de vivre'. Robj was there to satisfy that demand with high-end items that sometimes flirted with cubism –  fragrance diffusers, bonbonnières, coffee sets, book-ends, tobacco pots …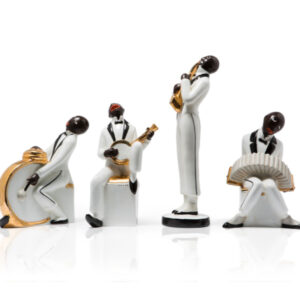 and of course, liquor bottles. Robj bottles in the shape of people were best sellers. The range was launched in 1928, and ran to over 40 character bottles. There was a bottle for every occasion –   a Russian for serving vodka, a Caribbean mamma for rum. A kilted Scots guard for whisky. A chubby parish priest hinted cheekily at communion wine.  As for the deep sea diver… well, your guess is as good as mine! Winking at the clichés, these beautifully-made items captured the frivolity and humour of the age.
"A Robj makes the most welcome gift…"
Not my words, but a Robj French ceramics advertisement of 1929! It still holds true, though, as good Robj pieces are highly collectable today and increasingly hard to find.
Always high-end, they were marketed in the 1930s as the modern-day equivalent of Sèvres and Meissen. 
It's worth knowing that Villeroy et Boch, who manufactured for Robj from 1926 to 1938, reissued a series of these bottles in the 1990s.
Tributes, not copies, they are signed Villeroy et Boch and sell for considerably less than originals.