A bronze fox and a remembered fox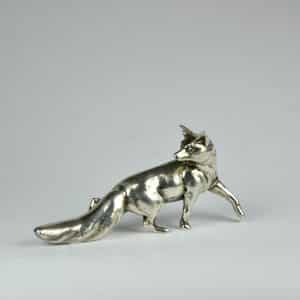 Confession time. I don't go in for writing poetry much, and haiku is strictly my limit. But what struck me when I saw this elegant silvered bronze fox by Valmazan was how well it captures a moment in nature,  and makes you think about it. In the same sort of way as a haiku does.
Seeing me too late,
He freezes. Turns. Vanishes.
Was he ever there?
My fox encounter was while I was out walking in heathland at dusk. As I was downwind, I saw him before he saw me and I was the first to freeze. I stood there transfixed while Mr Renard considered his options.  He'd just caught a pigeon, and I was close enough to see its feathers ruffling in the wind as it dangled from his jaw. A very long moment passed. Then he turned very gently, and in one smooth movement, he'd gone, leaving me behind to wonder whether I'd imagined him.
Whatever happened to 'my' fox, you can buy this one – a silvered  bronze fox figurine by the Spanish company Valmazan – in my shop here.
SaveSave
SaveSave
SaveSave
SaveSave
SaveSave
SaveSave
SaveSave
SaveSave