Chatou antiques fair
If you love antiques and you happen to be in Paris this weekend, you're in luck: the Chatou antiques fair is in full swing.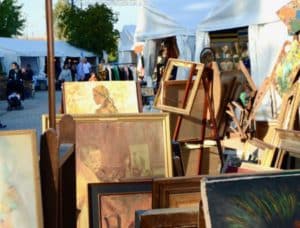 Thirty minutes from Paris, Chatou is fabulous for its sheer concentration of antiques, paintings and vintage collectables.
Alongside traditional French finds, such as Medici vases, old linen, silverware and confit pots, this season's fair has a strong mid century flavour, with lots of wicker, teak and Scandinavian ceramics.
The foire de Chatou is quite compact (so you won't notice how long you've actually spent on your feet until you collapse into a chair) and the grid of alleys, named after the streets of Paris, makes it easy to backtrack for that little objet you fell for before lunch.
That is, if someone else hasn't already snapped it up.
Unlike the regular boulevard brocantes held in Paris, all the stock at Chatou is vetted before the fair opens. Any imperfect items are usually labelled with the words, "dans l'état" (as seen). That makes it far less likely to get caught out, as I nearly was recently, by a "perfect" anthropomorphic jug whose head had been glued back on by a wily dealer.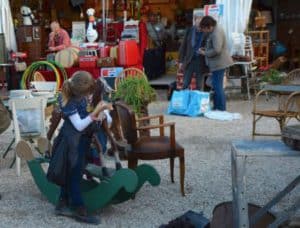 Funnily enough, it was yet another cracked jug I fell for at Chatou this weekend – only this time I'm still regretting I didn't splurge.Picture a handsome 18th century stoneware pitcher decorated in the Alsace style, blue on grey.
Long ago, it had been broken, and some long-forgotten dinandier (metalsmith) had repaired it lovingly, with snug bands of brass and a wonderfully ergonomic handle.
It was a valuable and obviously valued old piece that resonated with history and life, in the way only a fine old antique can.
Random thrills versus curated perfection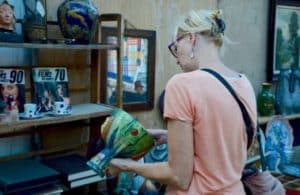 There are two very different schools of antique dealing these days – and the contrast stands out in a compact fair like Chatou. On one stand, you can find yourself in a perfect collector's paradise, lined with row upon row of rare and precious objects.
Next door, a handful of mid-century items are staged together in a way that seems to suggest how unique – even inseparable – they are.
Which do you prefer? Maybe something in between? A little bit of disorder, the promise of a surprise find or thrilling discovery? Whatever floats your boat, the Foire de Chatou is a good place to look for it.
The 95th Foire de Chatou –  until Sunday 1st October, 2017. Entry 6€.
The next fair is 9 March – 19 March 2018.