At home with Pierre-Adrien Dalpayrat
In the spotlight this month is Pierre-Adrien Dalpayrat, who created this large crystalline stoneware vase.
Dalpayrat (1844-1910) is an important French ceramist, whose brief but brilliant adventure in glazed stoneware helped bring about a revival in European ceramics.
So when I discovered his house outside Paris is now a museum, open to the public once a month, I had to visit…
From porcelain to stoneware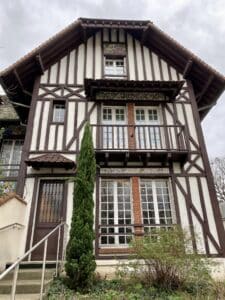 Nowadays, the traffic rumbles outside the mock-Norman villa in Bourg-la-Reine, about 15 miles outside Paris. 
But when Dalpayrat first came here, it was a country town with cobbled streets, horse-drawn carriages, and a handful of small factories turning out pottery.
By then, Dalpayrat was already in his 50s. He'd started out as a porcelain painter in Limoges and worked his way up through a number of faience and porcelain companies, including the famous Vieillard et Johnston factory in Bordeaux. But change was in the air. Faience and porcelain were no longer the rage, and many artists were embracing the 'new' aesthetic – Art Nouveau. Thanks to ceramists such as Jean-Joseph Carriès, Ernest Chaplet and Auguste Delaherche, glazed stoneware was now the artistic medium of choice.
Dalpayrat at the heart of Art Nouveau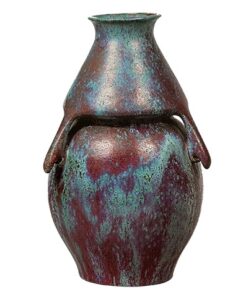 You can see examples of Dalpayrat's pottery in major museums around the world, but the 120 or so pieces on show on the ground floor of his old home would make any curator drool. 
The spirit of Art Nouveau is everywhere, from the vases with strange, organic lines to zoomorphic jugs and grotesque masks.  Dalpayrat, himself a gifted artist, boosted creativity by hiring from a long list of sculptors, designers and decorators such as Lucien Coudray, Georges de Feure,  Alexandre Charpentier and Edward Colonna. In his factory nearby,
Dalpayrat experimented with 'Oriental' style glazes in sumptuous blues, greens, ochres and violets. The most famous was, and is, his sang de boeuf glaze, not uniform red but flecked with mineral colours.
The sheer diversity of pieces makes it hard to believe they were all made in less than a decade.
Dalpayrat's legacy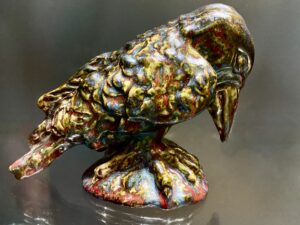 Dalpayrat pieces retailed in all the best outlets, including La Maison Modern and Siegfried Bing's Maison de l'Art Nouveau. It brought him critical acclaim and the Legion d'Honneur. What it didn't do, and Dalpayrat was the first to note the irony, was turn a profit. There was a last ditch attempt to save the firm with a range of – yes, you guessed – faience. When it failed, production ran down and the factory closed.
The adventure lasted little more than 6 years, but in that time, Dalpayrat pottery inspired a new generation of ceramists in France and Europe. It brought new refinement to the Art Nouveau movement… precisely at the moment it peaked and began to decline.
La Maison de Dalpayrat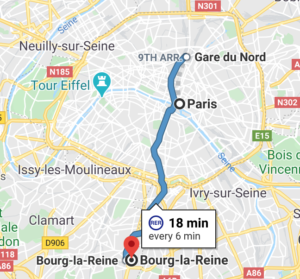 43 avenue du Général Leclerc, 92340 Bourg-la-Reine, 9 miles from Paris.
Open to the public the 3rd Saturday of the month, 10am-noon and 2pm-5pm. Closed July and August.
A two metre-high sang de boeuf vase by Pierre-Adrien Dalypayrat, Petit Palais museum, Paris.
Photo by Supermat.