Gustave Caillebotte – the 'other' Impressionist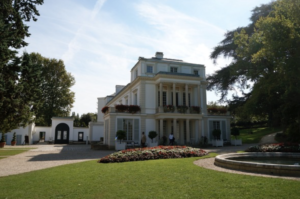 Time for a cultural interlude, with some bucolic charm thrown in. Last weekend, I visited the country home of Impressionist painter, Gustave Caillebotte – and it's a jewel.
Set in its own rolling park, the house is elegant, yet the decor is oddly anachronistic. That's because much of the furniture belonged to the house's previous owner, the widow of Napoleon Bonaparte's cabinetmaker. Caillebotte's father knew class when he saw it, so he bought the house with the furniture…right down to the amazing Empire bed.
The house re-opened last year, after decades of restoration and detective work. Certain pieces had to be bought back at auction before they disappeared into private hands for good. The efforts have paid off. The atmosphere's pleasant and natural. You half expect the Caillebottes walk in from their stroll by the river.

Gustave Caillebotte painted scores of pictures here. As a young man with a fortune, he bought many paintings from his Impressionist friends, but had no real need to sell his own. As a result, many stayed in the family.
It wasn't until the 1960s, that critics began to recognise Caillebotte as an artist, rather than merely a rich dilettante and a generous patron.
Several rooms reveal more about Caillebotte's inspiration, his approach, and the way he drew on photography in his painting. His brother, Martial, was an accomplished photographer.
Finally, in his forties, Caillebotte put down his brushes for good. One room is devoted to the artist's brief but highly successful second career … as a designer of racing yachts.
Exhibition: La Porte des Rêves : un regard symboliste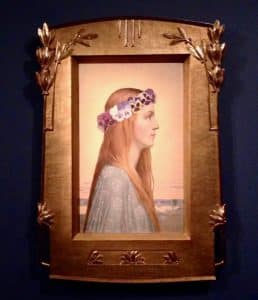 You can't help wondering what Caillebotte would have made of the Symbolist works on show just across from the house.
Caillebotte embraced Impressionism and Realism. There's nothing airy-fairy about this Nude lying on a divan, with her all-too-there hair, or his masterpiece, Les Raboteurs du Parquet, all sinews and glistening muscle.
Symbolists rejected all that. This exhibition explores their quest for purity, utopias and a certain kind of mysticism through just under 200 work, all from a private collection.
They range from idealised beauties by Alexandre Séon (left), Armand Point and Georges de Feure, to grotesque sculpted masks by Jean-Joseph Carriès. Next stop: Art Nouveau.
Most of the works are from the 1890s. It's a sumptuous exhibition. Expect to drool.
The Maison de Caillebotte is in Yerres, about 12 miles south of Paris. Take the RER D train, towards Melun.
La Porte des Rêves ; un regard symboliste showing in la Ferme Ornée on the Caillebotte estate until 29 July 2018.
SaveSave
SaveSave
SaveSave
SaveSave
SaveSave
SaveSave
SaveSave
SaveSave
SaveSave
SaveSave
SaveSave
SaveSave
SaveSave
SaveSave
SaveSave
SaveSave
SaveSave
SaveSave