A rare stoneware vase by Jean Langlade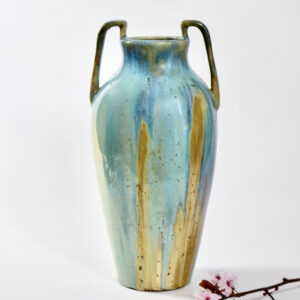 Jean Langlade pottery is rare, so I'm delighted to be the custodian of this elegant vase… at least until it finds its next owner.
Soft shades of blue, turquoise, ochre and pink meet and blend beautifully.  Tiny pinholes and a slightly granular aspect in places add an unconventional touch to the familiar baluster shape.
From around 1920, it's a lovely, understated piece by a master of flammé glaze stoneware.
Jean Langlade, from porcelain to La Puisaye
Jean Langlade (1879-1928) was a consummate craftsman. He learned the basics of his craft in the porcelain capital, Limoges, before studying applied arts at Paris' école Bernard Palissy. According to contemporary accounts, he travelled widely in France, working, observing and honing his techniques. Around 1910, he settled in Charenton, a village on the outskirts of Paris, making decorative glazed earthenware busts and porcelain.
In his 40s, Jean Langlade moved to Saint-Amand-en-Puisaye, by now a magnet for potters and sculptors inspired by the école de Carriès. He became lead designer for Grès Flammés Céramiques, an important post for which he was probably headhunted. GFC regularly produced items for the prestigious Atelier Primavera in Paris. 
Langlade stayed just two years. He and his wife, Angèle Blanquet set up a studio in a small Burgundy village. Perhaps they hoped fresh air and calm would help him fight off his advancing tuberculosis. 
Tthere was just one last venture, this time with Louis Cagnat, whose family pottery been making traditional Puisaye stoneware since medieval times. Cagnat pottery is still in existence to this day, but what sets collectors' pulses racing are the late Art Nouveau works created by Jean Langlade, master of glazed stoneware…