Back in my London days, one of my pleasures was getting lost in Liberty's, the famous olde worlde department store on Regent Street.
No doubt if I'd been shopping there around 1900, I'd have seen colourful Flemish art pottery vases like this one, perhaps sharing space with William Morris or Christopher Dresser designs.
In fact, Arthur Liberty's luxury emporium imported lots of these lovely wares, buying direct from the manufacturer, P.J. Laigneil, in Kortrijk, Belgium. 
Applied art, step forward
Belgium was a pretty happening place at that time. In 1894, the art patron, Edmond Picard had turned his Brussels home into a gallery for desirable, innovative design. Across the country, avant-garde artists and intellectuals were linking up and exchanging ideas on the new art, or l'Art Nouveau.
They started to turn their attention to design, or applied art as they called it (the idea that everyday, functional objects could be art was still pretty radical.) And especially ceramics.
"Art Nouveau",  by its very vagueness, meant different things to different people. In France, whiplash lines were so typical of Art Nouveau that people started calling it Art Noodle. In Belgium, an important influence was the English Arts and Crafts movement, spearheaded by William Morris in the 1870s. Many artists felt an affinity with Morris's precepts.  Some believed they were forging a radical new union between artists and the working classes. Others were driven by the desire to reflect Flemish culture and identity. They conjured up a fantasy of the past, often with a whiff of medievalism about it.
Laigneil, from Torhout to Kortrijk
Pieter-Jozef Laigneil (1870-1950) understood all this. Laigneil wasn't a ceramist – he was a civil engineer by trade.  But he mingled with artists, he had an eye for design and the talent to bring all the strands together.
Here he is, pictured with fellow members of the Kortrijk Art Guild, a group of like-minded artists and patrons rather like the École de Nancy in France. (I like to think he's the cheeky chap on the left.)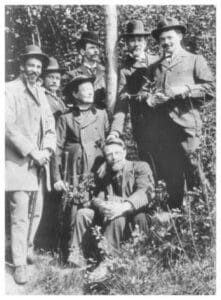 Laigneil gathered a large portfolio of ceramic designs and paid to have them made at Leo Maes' pottery in Torhout.
However, the deal with Maes was a stepping stone to greater things.
Cannily, Laigneil had kept all rights to the designs he had commissioned. Armed with these, in 1898,  he started his own factory, the Kortrijk Art Pottery in Courtrai.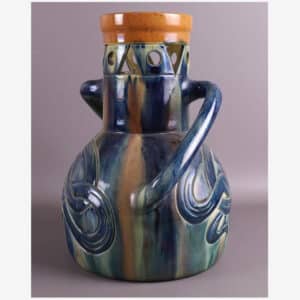 The new pottery at Kortrijk drew on traditional Flemish pottery techniques going back generations. They included appliqué decor, sgraffito and the soft, fuzzy drip glazes that are so typical of Flemish 1900s art pottery .
For all its rustic charm, the pottery involved a lot of time and skill to make and, in true Arts & Crafts style, the hand of the artist was in evidence.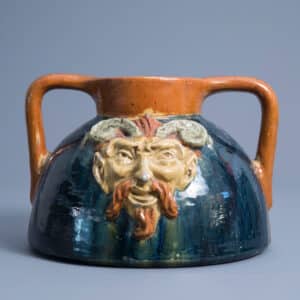 International success followed, and the pottery sold in the Benelux countries, Germany, France and even as far away as New York, where it was marketed alongside American avant-garde pottery.
Among Laigneil's biggest customers was – you guessed – Liberty of London. Kortrijk pottery fitted its style and ethos to a tee.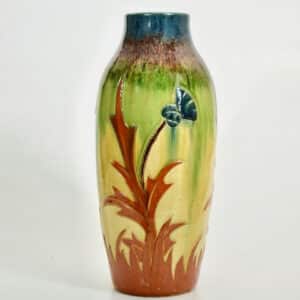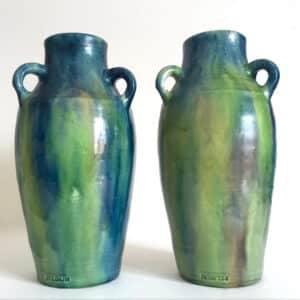 The Kortrijk adventure only lasted around 15 years – it was cut short by the declaration of war in 1914.
By the time World War One had ended, Kortrijk pottery was no longer fashionable – and the bell was tolling for Art Nouveau too…