Paris: The Bastille Antiques Fair – without the Bastille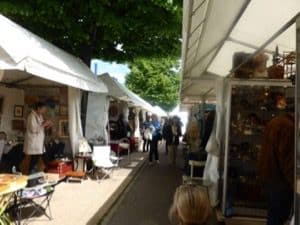 The Bastille antiques fair is a Paris institution – not least for its remarkable location.
Held in May and November, the antiques fair straddles the Port de l'Arsenal, a delectable little pleasure port, smack in the heart of the city.
Sadly, this year might be the last time it does so. The fair's organisers have been told they'll have to relocate this autumn, while the Place de la Bastille undergoes a 2-year renovation. It's unclear whether the move will be temporary or permanent.
A high-end antiques fair…

Part of the appeal of this  antiques fair is its diversity. At one end of the antiques fair, white marquees house around 70 high-end dealers from across France and Europe. The quality is top-notch and includes paintings, silverware, jewellery, furniture, French ceramics and glass. (This year's array of Gallé, Daum, Legras and Schneider Art Nouveau glass had me positively drooling.) The accent tends to be on French antiques (though I did spot a suit of Samurai armour lurking in a corner…)
Something for everyone

Exit the tents, and you find yourself in a more familiar, antique market atmosphere, with some 280 stands lined all around the marina.
This part is a real pot-pourri, where pre-war schoolhouse posters, antique linen, stuffed mammals (mmm, I'll pass, thanks), racks of vintage faience and je-ne-sais-quoi all jostle for your attention.
The dealers are friendly and open, and more so after lunch and a p'tit vin rouge. You can handle items, ask questions (most of the dealers can get by in English) and maybe you'll strike a deal.
Between strolling and browsing, the whole circuit takes over an hour. Of course, it takes longer if you stop now and then to and enjoy a engagingly different view of Paris. On a sunny day, the sight of the boats and barges puts even grumpy Parisians in a holiday mood.
Adieu, or just au revoir?
This autumn, there's a break in the tradition. The next 'Bastille' antiques fair will be held in November 2017 at Ecole Militaire, in the 7th arrondissement.  Yes, I know; it's a smart, touristy area, and there'll still be diversity, prestige and the fun of finding something you didn't know you needed till you happen to set eyes on it. But I, for one, will miss Bastille and its boats…
Joel Garcia's Salon des Antiquités is held in May and November. If you're in Paris then, you can sign up for mailings and a free ticket at https://joel-garcia-organisation.fr – or pay 10 euros on the door.