French vintage designer scarves – new in!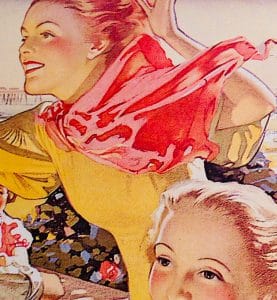 Summer's finally here, so I've been combining something I love – French vintage silk scarves – with something I loathe – ironing.
I've been busy adding new stock from some of my favourite French designers, such as Jacques Fath, Jacques Heim, Balmain and Dior. Look out for Hermès scarves and rarities, too. 
I hope you enjoy the choice and find something for yourself or a loved one. As some of you have already cottoned on, a French vintage scarf makes an original gift that brings pleasure day in, day out!
Four great reasons to buy vintage designer scarves
Quality. French couture houses often have their their scarves made in in Lyon, where the silk industry has a reputation that's second to none. The silk has a good structure, drapes well and, if well cared for, will look good for years. Remember, too, couture houses have always been able to hire the best design talent. Think of Antonio del Castillo, who created stunning designs that stay the test of time.
Elegance. Nothing says chic more than a vintage French designer scarf. Wear it with style and nonchalance. Channel your inner Catherine Deneuve!
Wearable art. From 1950s picture scarves to limited edition pieces by artists in their own right, who needs walls?
The fabric of history. Vintage designer scarves captured the mood and trends of the day. 1950s? Hourglass elegance. 1960s? Mesmerising op art. 1980s? Look-at-me scarves in jewel brights. History? Her story. Your story.
Things to know
I dryclean the most expensive pieces, eg. carré Hermès, Lancel, Vuitton. For most other scarves, I wash by hand with cold water and a splash of mild detergent. 
As I add new stock, I'll be simplifying my descriptions. Here's the simplified version: 
Mint means just that:  pristine. 
Excellent means there may be wear, but it's so slight, only a full time Scarf Detective would notice. 
Very good means there will be small signs of wear, but you'll still feel fantastic wearing it at the wedding/office/party.
Good means the scarf has imperfections consistent with age and use but is still attractive to wear.