Description
Marcel Renson Art Deco craquele sculpture c1929
Superb Marcel Renson Art Deco craquelé sculpture of a Venetian lady in polychrome crackle glaze faience, France, 1929.
The figure is beautifully decorated in rose pink and gold and cream and poses on a gold craquelé base.
It's signed with the artist's name, Buscat and MRenson Paris underneath the base. It also has its original retailer's sticker – it was sold in a shop in Nantes.
Height 17 inches / 43cm
Measurements at base : 8 inches x 4.5 inches
In excellent condition, with the exception of a small nick to the side of the base which could be restored, if desired.
Shipping tariff T4. See shipping information
Marcel Renson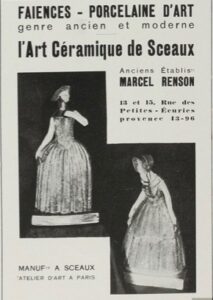 In the 1920s and '30s, Marcel Renson was a well known maker of Art Deco sculptures and centrepieces in craquelé porcelain. The polychrome figures were similar in style to Charles Harva.  Renson had a factory in  Sceaux, south of Paris, and sold from a boutique in Paris.