Legras glass and its legacy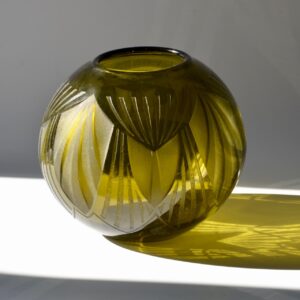 Legras glass is one of the great names of French antique glass. We're pleased to offer some gorgeous examples in our shop, and we regularly add new pieces.
A good deal is known about this formidable glassmaker but that still leaves room for plenty of myths and misunderstandings! Here's a primer.
SaveSave
SaveSave
SaveSave
SaveSaveSaveSave
SaveSave
SaveSave
SaveSave
SaveSave
SaveSave
SaveSave
SaveSave
A genius for glass and business
The founder of Legras glass, François-Théodore Legras (1839-1916) had little schooling and spent his teenage years as a woodcutter in the forests of his native Vosges.
His chance came when he was apprenticed to the Clairey glassworks at the late age of 20. Once trained, he headed for Paris and found work at the Plaine Saint-Denis glass factory in the north of the city. Within 3 years, he had become the factory's director.
In 1883, François-Théodore undertook a massive expansion of the factory in Saint-Denis, in partnership with the famous Paris patron, Sir Richard Wallace. Around that time, he also bought a much older factory in Pantin, north-east of Paris.  By the end of the century, he was running a vast industrial complex with a workforce of nearly 1,300 people. Legras & Cie was a name to be reckoned with.
F.T. Legras was determined his successors would benefit from the opportunities he'd lacked. He took his 14-year-old nephew, Charles (1859-1922) as an apprentice, and encouraged him to develop his flair for glass chemistry. It paid off: thanks to Charles, Legras glass won the gold medal at the Paris World Fair, and the grand prix in 1889.
A second nephew, Théodore also joined the company, training in chemistry before taking over the production management. We know that Théodore designed pieces for Paris' Exposition des Arts Déco in 1925, but Charles seems to have been more influential in terms of research and design. Left: an Art Deco wheel-engraved bowl, available to buy now.
One of the surprising things about Legras is the sheer diversity of its output.
At one end of the spectrum, Legras supplied pharmacies and distillers with industrial flasks and 'fantasy' liquor bottles including some of those pictured left.
At the other end was the art glass, including cameo glass and enamelled glass. This was high-tech and extremely labour intensive. Some pieces took up to five firings to produce.
Note that some enamelled pieces are signed Leg. While lovely, the enamelling doesn't have the same degree of finesse, and that's usually reflected in the price. This production is believed to be from 1914-18, when many skilled workers were sent to the Front.
Left: a pair of Legras glass Lamartine vases with enamelled decoration.
Right: A Legras marbled glass vase with enamelled decor from  'Printania' series.